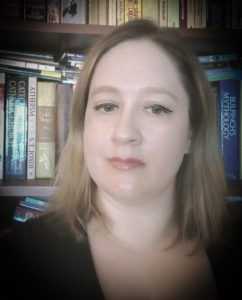 Hi! I'm Alexandra Bittner (Alex for short) and I like to write weird and fanciful stories for young adults and people who just like YA (like me!). While Daughter of the Mara is my first novel, I have wanted to be a writer forever. Forever ever? Forever ever. I have a Bachelor's Degree in English from Cal Poly San Luis Obispo, a Master's Degree in Library and Information Science from the University of Washington, and seriously considered getting a PhD in Medieval Literature (I have a somewhat unhealthy King Arthur obsession). I am also an analytics nerd which has led me to my current career doing supply chain analytics in the craft beer industry.
I currently live in one of my favorite places in the world, Bend, OR, with my husband Matt (also a writer, check out his blog if you're into all things apocalyptic) and our cat, Sterling.
And since I'm not great at talking about myself here's a random list of other things about me:
I love books and bookstores. Powell's in Portland, OR is my favorite and sometimes I lament being three hours away from it.
My favorite book is The Mists of Avalon by Marion Zimmer Bradley (see, there's King Arthur again).
My musical tastes vary greatly and I like some of just about everything. I am also a big musical theater nerd and have been since childhood.
I am a self-proclaimed craft beer aficionado and am launching a craft beer blog later this year. Stay tuned if that's something you're into.
I love football (the American kind) and I am a huge Seattle Seahawks fan.
I also love TV and watch way too much of it. Current faves include (but are in no way limited to) Crazy Ex-Girlfriend, Game of Thrones, Silicon Valley, Orphan Black, and Lady Dynamite. All time favorite is a tie between Buffy the Vampire Slayer and Gilmore Girls.
I grew up in Pismo Beach, CA. Yes, the one from Clueless. Or Looney Tunes if you really want a throwback.
Growing up I wanted to write the descriptions on the backs of books.
I have, on occasion, fallen in love with fictional characters.
I am a Ravenclaw, Divergent, Materialnik, who wants to be a vampire slayer when she grows up.
I am a notorious squash thief. My Twitter bio says so and we all know that the Internet never lies.
Thank you for being here! I hope you like my book!